Cincinnati Kids Brazilian Jiu Jitsu Classes
Youth / Children's BJJ Classes in Cincinnati, OH
At Limitless BJJ, our Cincinnati Kids Brazilian Jiu Jitsu (BJJ) Classes are our fastest growing program.
That's because these kid-focused classes, with students' ages ranging from 5 – 12, are the perfect mix of exercise, learning, and play.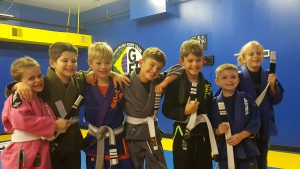 Our BJJ Kids Classes in Cincinnati are geared toward the fundamentals and core techniques of Brazilian Jiu Jitsu.
After years of teaching children & young adults, we've developed a teaching style that is easily accessible & holds the class's focus.
Each student receives individual feedback & personal attention and are encouraged to progress at their own pace.
Classes will allow optional free rolling for the more experienced students, but a typical Limitless BJJ Kids Class is just as likely to end with a game of tag or other fun activities.
---
Ready to Get Started?
Try Out a Free Intro Class!